Complete Portfolio Management for Stocks & Other Securities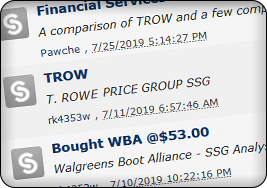 Robust Tools for Dividend Research
| | | |
| --- | --- | --- |
| | | Identify stocks that have recently increased their dividends, or monitor a calendar of upcoming and recent dividend payments. |
| | | |
| | | Find new dividend stock ideas by screening for dividend growth, yield, or payout ratios, or browse the Roster of Dividend Achievers. |
| | | |
| | | Drill down through high-yielding industry groups to find and rank companies with optimal yields and/or payout ratios, then review each stock's historical data and charts. |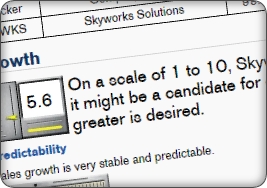 Instant Stock Analysis with Take Stock
| | | |
| --- | --- | --- |
| | | Take Stock will teach you how to invest in the stock market quickly and easily with a time-tested approach focusing on high-quality companies |
| | | |
| | | Take Stock provides you with buy, sell or hold indicators for any publicly-traded stock in just seconds! You can drill down to see how the judgments are created. |
| | | |
| | | If you are new to Take Stock, full "Help" and detailed "Concepts" are provided to get you up to speed quickly with our approach. |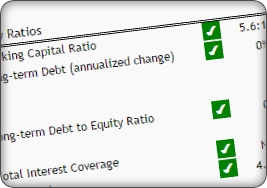 Stock Screening & Ratio Analysis
| | | |
| --- | --- | --- |
| | | Screen our stock screening database of over 8,000 stocks using parameters preferred by fundamental investors, including the time-tested Take Stock Quality Rating. |
| | | |
| | | Drill down through sectors, industries, and companies to review key averages for any company, such as profit margins, debt ratios, and return on equity. |
| | | |
| | | Identify and quantify a company's strengths and weaknesses using common financial ratios, and understand any risks you may be taking by investing in it. |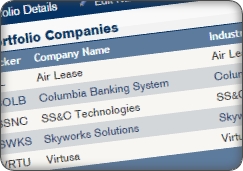 Create portfolios or watch lists and track the total value of your holdings. In addition, the Quality, Mood, and Buy indicators as calculated by Take Stock are displayed for each stock, giving you a thumbnail view of the most important fundamental criteria for each of your holdings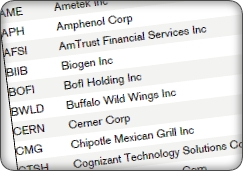 ROSTER OF QUALITY COMPANIES
Review our weekly update of companies that meet minimum standards of quality for consistent growth and strong, steady profit margins – a great starting point for finding potential investment candidates.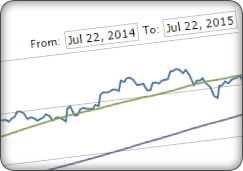 Customizable historical stock price charts offer a variety of technical indicators and styles, including line, Open-High-Low-Close, and candlestick charts. Users may select from several overlays, such as simple moving averages, exponential moving averages, Bollinger bands, RSI, and MACD.
Join StockCentral Today and Start Improving Your Stock Portfolio!

Limited-Time Introductory Offer
Completely Online. No Software to Update or Install. Ever!